When the holidays roll around, I am always looking for crafts and gifts to make for my family and friends. There are SO many fun Christmas crafts and gifts you can make out there, you just have to look. One gift I can make my loved ones this holiday season is the Essential Oils for the Feet Peppermint Foot Scrub! It only requires a few ingredients and is a perfect self-care gift for that special someone on your list!
Essential oils are used for so many ailments and one of them is foot pain! My hubby has foot pain and I have been making this foot scrub for him to use when he takes his showers or right before bedtime. He says his feet always feel refreshed and the skin on his feet is so soft because of the olive oil in this!
Using Essential Oils For Foot Pain
What essential oils are good to use for foot pain? There are a couple that we use. One is Peppermint Oil, eucalyptus essential oil, and Tea Tree Essential Oil. Using essential oils is a great, natural way to alleviate foot pain and other pains you might be having. You only need a couple of drops! Be sure to use a carrier oil when using these essential oils. I like to use olive oil,  jojoba oil, or coconut oil for my carrier oils.
Foot Soaks For Foot Pain
You can also add peppermint essential, eucalyptus, or tea tree essential oil to a foot bath with warm water and let your feet soak in that for about 15 minutes or so. My hubby says his feet always feel so much better after foot soaks. His sore feet are restored and feels so much better when doing these foot soaks. You can also add lavender essential oil to the foot soak if you are doing this at night. It helps you relax and sleep better! There are SO many benefits to using essential oils!
Essential Oils For The Feet Peppermint Foot Scrub
Let's get to the recipe! Enough chatter! Rather than reaching for the harsh chemicals in foot scrubs opt instead for this homemade recipe for peppermint foot scrub!
Peppermint Foot Scrub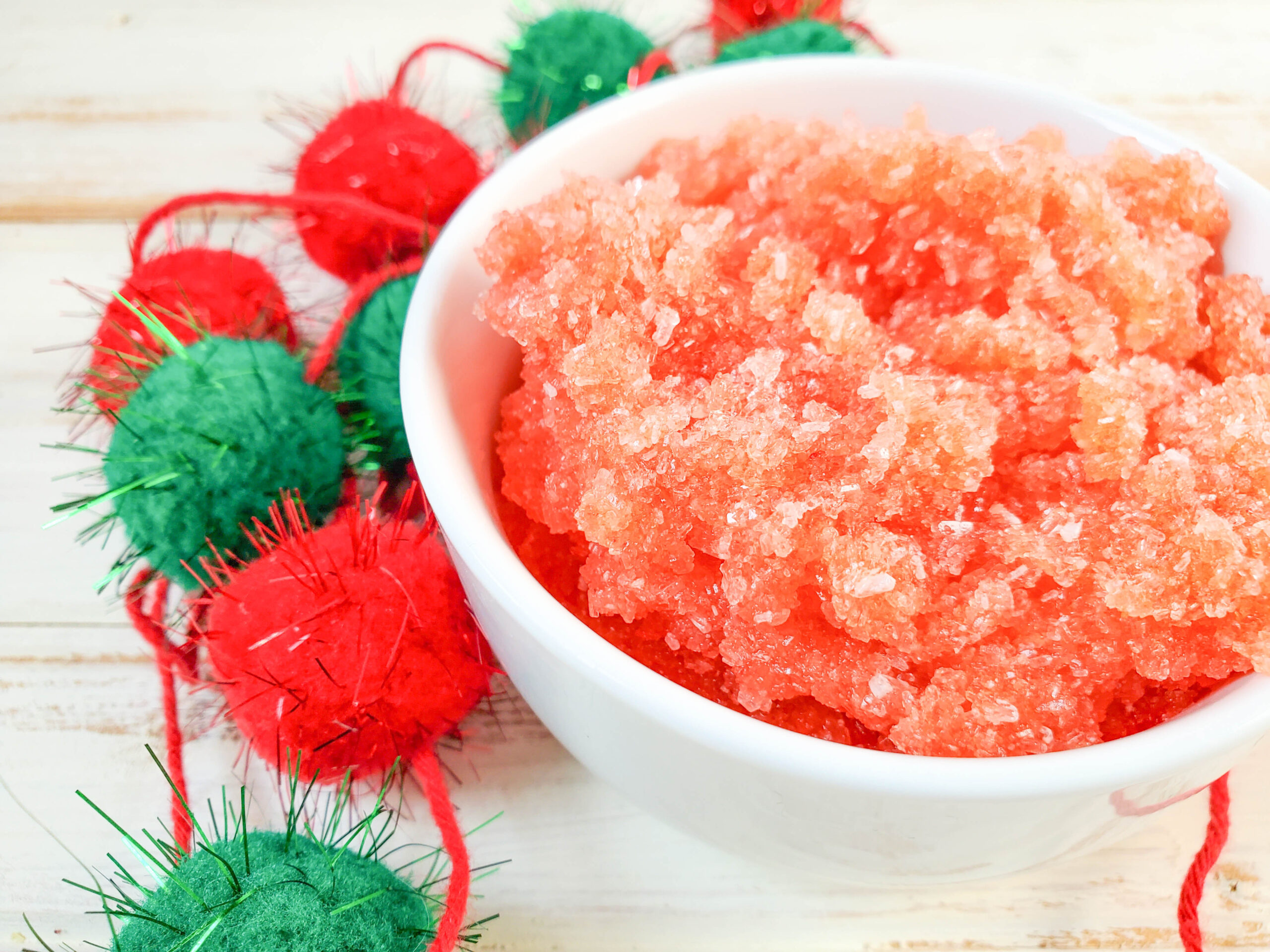 Our invigorating peppermint foot scrub is made with soothing essential oils that will leave your feet feeling soft and less sore.
1 cup Epsom Salt
1/2 cup  olive oil
2 drops Cherry soap colorant
40 drops Peppermint essential oil
Combine Epsom salt and olive oil in a bowl.Stir well, until combined.

Add soap colorant and essential oil, mix well

Store in an airtight container, and apply liberally to dry feet to exfoliate
When making homemade gifts for loved ones this holiday season, don't forget the cute packaging and gift tags! You will need these things to create the perfect gift for your loved one this Christmas!
If you loved this DIY holiday gift idea, then you might just love my DIY Ginger and Lemon Sugar Scrub too! And, while you make this homemade gift, you should have these yummy marshmallow peanut butter cookies on hand for a yummy snack!
Let me know if you decide to make this and how it turned out for you! Just leave me a comment below! Thanks!
*This post includes my affiliate links
Shop for the ingredients you will need:
*Epsom Salt
*Air Tight Container
PIN IT