*This post includes my affiliate links
I am not sure if you remember those Wonderball chocolate spheres that had candy inside, do you? You would break them open and inside was more candy! I absolutely loved those so much! Candy within candy? That is a child's dream, isn't it? I have to admit that I am not a really big candy type person, but when it comes to fun candy like these breakable chocolate balls with candy inside, then I am all for it! So fun!
I wanted to make my own breakable chocolate balls with candy inside for my kids and here is the fun recipe we came up with! These are so yummy, easy-to-make, and are so fun to break open and eat! These would make great Christmas gifts to your loved ones and to leave in your kid's stockings on Christmas Eve! There are so many fun ways you can package these festive treats (check on Amazon!).
DIY Breakable Chocolate Balls with Candy Inside
Below is the recipe we created to share with you! These are the perfect yummy treats for a holiday party, family-gettogether or to leave out on your table for Santa! Your kids will have a blast not only making them with you but breaking them open and eating them too! So fun! These would make a great last-minute gift for that special someone!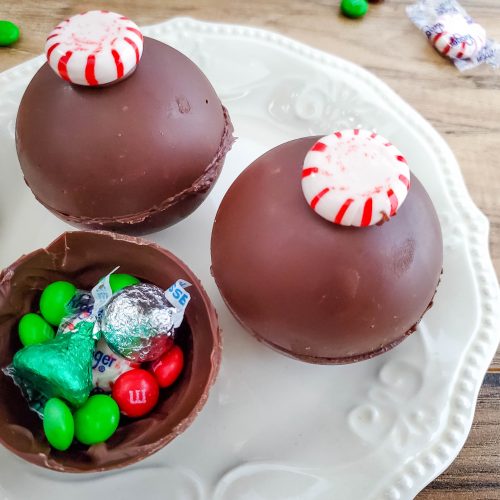 Breakable Chocolate Balls with Candy Inside
The most mouthwatering, creamy and delicious chocolate wrapped around Christmas candy!
Equipment
Half sphere mold (Buy on Amazon: https://amzn.to/3CEdqZC)
Ingredients
1

11.5 oz bag

 milk chocolate chips
Assorted Christmas candy (wrapped or unwrapped)

3

3 peppermint candies
Instructions
Unwrap the 3 peppermint candies

Pour chocolate chips into a microwave-safe bowl, and heat in the microwave on high for 30 seconds. Remove and stir very well. Repeat these steps until the chocolate is fully melted.

Drizzle some chocolate into each of the mold cavities, and use a spoon to coat the entire cavity

Place chocolate-coated mold on a plate, and set in the freezer for 5 minutes.

Remove the chocolate-coated mold from the freezer, and coat with a second coat of chocolate.

Place chocolate-coated mold on a plate, and set in the freezer for 5 minutes.

Heat a small ceramic plate in the microwave for 2 minutes.

Unmold the chocolate half-spheres, and set them on the chilled plate.

Place a half-sphere upside down on the hot plate for a second, then fill with candy. Take a second half-sphere, and place it upside down on the hot plate to melt the chocolate a bit. Place the two half spheres together and the melted chocolate will mold them together.

Dab a small amount of chocolate onto one side of the peppermint candy, and place it on top of the chocolate sphere.

Repeat steps 9 and 10 for the remaining chocolate spheres.
These chocolate balls with candy inside are the perfect treat for any holiday celebration. The outer layer's milk chocolate is smooth, creamy, and melts in your mouth and the inside has Christmas candy nestled inside waiting for you to break it out!
Let's Shop!
Below, is your shopping list of all the things you will need to make these chocolate candy balls!
*11.5 oz Bag of Milk Chocolate Chips
PIN IT