It is that time of year again, and that means it's time to start planning your holiday party! One of the best ways to entertain guests is with a winter charcuterie board. Charcuterie boards are a great way to showcase a variety of snacks, cookies, and treats, and they're perfect for any occasion.
My favorite snack boards will either have sweets on them or will be only cheese! I love love love cheese trays! I could snack on cheese all day long! A variety of cheeses, salty crackers, and winter fruits and you will make me a happy girl! But, I also LOVE me a good hot chocolate board like the one below, too! A girl has to have her sweets too! Right?!
In this post, we'll show you how to create a simple winter charcuterie board that's perfect for the upcoming holiday season! And, a winter charcuterie board is the perfect way to show your holiday guests how much you love them! I mean, everyone loves a perfect board filled with goodies and snacks!
*This post includes my affiliate links
It is also so cute that you will want to display it for all the guests who have come to your home for the holidays! This is one of my favorite winter charcuterie boards I make each year! I like to call these boards, grazing boards because everyone just stands around and eats from them!
What You'll Need
For this winter charcuterie board, you'll need:
1/2 cup milk chocolate chips
1/2 cup butterscotch chips
1/3 cup Christmas sprinkles
3-6 mini candy canes
5-6 soft peppermints
3-6 chocolate fudge pirouettes
You can pretty much add anything to this great charcuterie board that you can add to hot chocolate or eat with hot cocoa! (See more suggestions below!)
How to Assemble Your Winter Charcuterie Board
1. Start by selecting a large serving tray or board to place your ingredients on. You'll want to choose something that's big enough to hold all of your snacks and treats to create a beautiful board!
I like to use a charcuterie board like this one. 
2. Fill chocolate chips into a bowl. Fill butterscotch chips into a bowl. Place onto the board.
I like to use these small bowls!
3. Fill a small bowl with sprinkles. Place bowls on the board.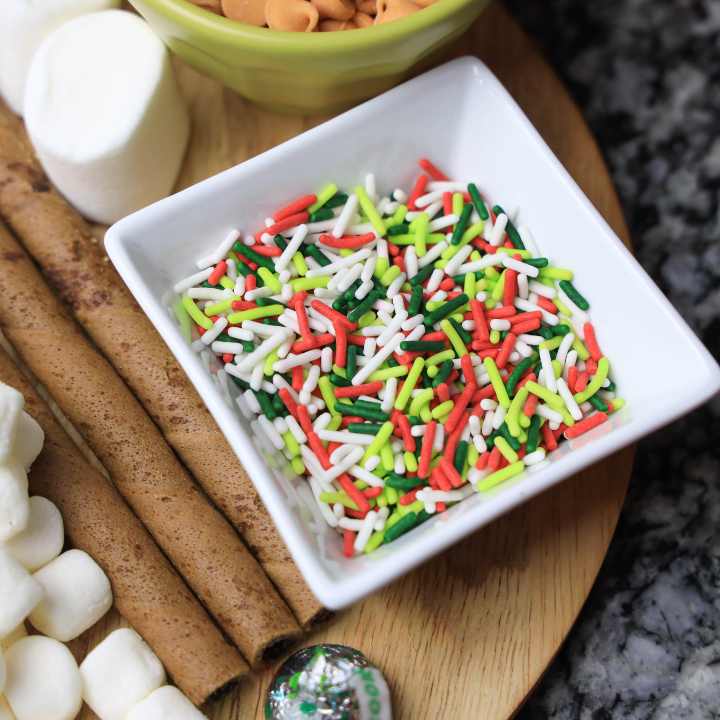 4. Add pirouettes, marshmallows, kisses, and peppermints onto the board.
5. Sprinkle your chocolate chips on the holiday charcuterie board. These little morsels are perfect for snacking on and can be used to top off hot cocoa or other winter drinks.
The best way to serve the board is with hot chocolate (or hot water) so your guests can add the chocolate to it and make their own hot cocoa! I have even served this with homemade eggnog! YUM!
You can also serve this winter charcuterie board with my famous hot chocolate Fireball bombs OR if there are children, serve with my Mike from Monsters Inc. hot chocolate balls or these Polar Express Bell Hot Chocolate Bombs! SO many yummy hot cocoa balls to choose from!
Below are a few more snack items you can add to your winter charcuterie board:
You can purchase these items online on Amazon.com, Trader Joe, or you can find them at your local grocery store.
*Marcona Almonds (nuts are always a must-have with hot cocoa in my home!)
 *Crisp pears (sliced nicely)
More Winter Charcuterie Board Ideas 
​There are so many different winter charcuterie board ideas out there. They all make a great option to serve at your next holiday party or Christmas parties.
S'mores Charcuterie Board: Create a s'mores charcuterie board with Christmas Bark, graham crackers, old-fashioned fudge with walnuts, marshmallows, and other toppings like peanut butter truffles, caramel sauce, or fruit.
Guests can create their own s'mores combinations and toast their marshmallows over a fire or with a tabletop s'mores maker. That way, you have a good variety of yummy snacks on your holiday snack board!
Winter Fruit Charcuterie Board: Everyone loves seasonal fruits, right? Create a winter fruit charcuterie board with seasonal fresh fruit like pomegranates, persimmons, kiwis, and citrus. Add nuts, soft cheeses, crackers, and a winter-inspired dip like cranberry sauce salsa, fig jam, or honey cinnamon yogurt dip. I love using fruits on a charcuterie board because some of them have such bright colors and that will really make your cutting board stand out!
Winter Wonderland Charcuterie Board: Create a winter wonderland holiday board with snowflake-shaped crackers (or other holiday different shapes), white chocolate-covered pretzels, coconut-covered marshmallows, white peppermint candy fudge, and other white or silver treats. Add fresh berries like blueberries, blackberries, or other dark fruits for a pop of color along with a sprinkle of blue cheese.
Winter Cheese Board and Wine Charcuterie Board: Create a cheese platter and wine charcuterie board with a variety of softer cheeses (creamy brie) and hard cheese (or whatever kinds of cheese you like), crackers, a variety of nuts, fruits, Castelvetrano olives, and wine.
Add your favorite cheeses like cranberry or tangy goat cheese, and pair it with a chilled Pinot Noir or a bold red wine. Make sure you have cheese knives nearby so your guests can dig in!
​Raw Vegetable Board: Raw vegetables charcuterie board is a great way to offer healthy snacks that everyone will love. With a variety of colorful vegetables, dips, and spreads, you can create a beautiful and delicious spread that's perfect for holiday parties or a large crowd.
​These are just a few ideas for unique winter charcuterie boards. The possibilities are endless, so get creative and have fun!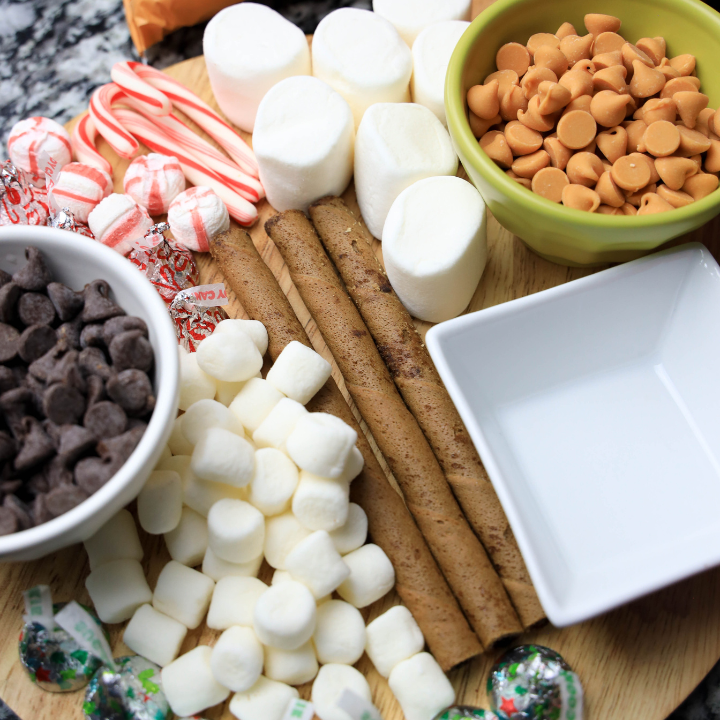 Psssst!!! If you are looking for a holiday meat charcuterie board then you will LOVE my Candy Cane charcuterie board!
A winter charcuterie board is a fun and easy way to entertain guests or enjoy a cozy night in. With a variety of snacks and treats, you can create a beautiful and delicious spread that's perfect for any occasion. Whether you're creating a hot cocoa charcuterie board like the one I have the recipe for above or a raw vegetable charcuterie board, the possibilities are endless!
Recipes You Might Be Interested In Trying:
Any of these items would go great with a charcuterie board!
*Breakable Chocolate Ball With Candy Inside (very popular!)
*Hot Chocolate Marshmallow Stirrers
PIN IT!