Have you ever made melted snowman cupcakes? If not, you need to because they are so cute and fun to eat! They look exactly like a melting snowman! So fun for the kids and great to bring to any party this holiday season or just to have for your family to nibble on. Not everyone can have a snow day but with these cute snowy cupcakes, now they can!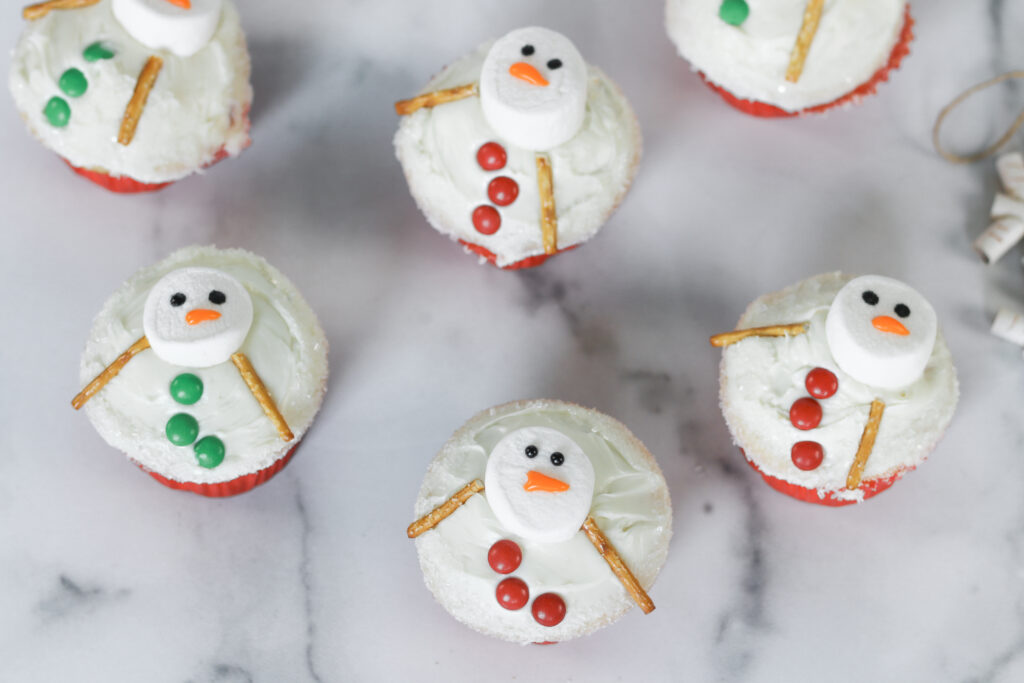 Melted Snowman Cupcakes Recipe
Melted Snowman Cupcakes Recipe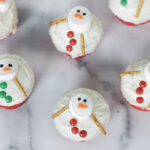 The melted snowman cupcakes are absolutely charming with their piping frosting, candy eyes, and yummy marshmallows.
Large Mixing Bowl
Cupcake Liners
Mixer
Muffin Tin
1 box Betty Crocker White Cake Mix
1 cup Water
1/2 cup Vegetable Oil
3 Eggs
Marshmallows, cut in half
Pretzel sticks, cut in half
Mini M&Ms
White Frosting
White Edible Glitter
Orange Cookie Icing
Black Cookie Icing
Preheat oven to 350 degrees. Line muffin tin with paper cupcake liners.

In a large bowl, mix together cake mix, water, oil, and eggs according to package instructions.

Fill cupcake liners about ⅔ full and bake for about 18 minutes. Remove from oven and allow to cool.

Frost cupcakes with white frosting. Pour white edible glitter on a plate and roll the edges of the frosted cupcake in the glitter to coat the edge and make them sparkle.

Place a half marshmallow, cut side down in the center of the cupcake.

Add two half pretzel sticks on each side of the marshmallow for the snowman's arms.

Place three mini M&Ms on top of the frosting for the buttons.

Use the black cookie icing to make eyes. Use the orange cookie icing to make an orange triangle for the carrot nose. Allow icing to dry.

Serve and Enjoy! Yay!
These take hardly any time at all to make and bake! So cute and fun to eat! Your whole family will love them! Don't forget to make my homemade Vegan Eggnog to wash these festive treats down with!
Shopping List
Here are the ingredients you will need to make these cute little melting snowman cupcakes! (This list includes my Amazon affiliate links)
Let me know if you make these holiday cupcakes! I would love to know how they turned out and how much you loved them! Leave me a comment below!