I really don't know anyone who doesn't LOVE fudge! Everyone in my family loves fudge, especially this peppermint candy fudge! It is SO delish and is simple to make! Get your kids involved in helping you make this unforgettable holiday treat! (Don't forget to save some for Santa!) This delicious fudge is also perfect for gifts to your loved ones this holiday season!
Peppermint Candy Fudge
This year, do Christmas right with Peppermint Candy Fudge! Packed full of refreshing peppermint flavor and crushed candy cane pieces, it's sure to be a sweet treat that brings back memories of Christmases past.
Peppermint Candy Fudge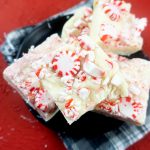 This is a delicious and sweet dessert that's perfect to share with friends and family this season. It has the rich taste of peppermint, with the smooth creaminess of fudge for a delectable experience sure to be loved by everyone.
2 12 oz bags White chocolate chips
14 oz Can of sweetened condensed milk
1 bag peppermint candies; crushed
In a saucepan on low heat, add in white chocolate chips and sweetened condensed milk. Stirring often until chips are fully melted.

Stir in half the peppermint candies.

Line an 8×8 or 9×9 baking pan with parchment paper. Place the fudge into the pan. The thicker you make it the thicker the fudge will be.

Press the rest of the crushed candies on top of the fudge.

Place the fudge in the freezer for one hour.

Remove and cut fudge into pieces.
Keep in the fridge. If you would like it to keep for longer keep it in the freezer in a container until ready to serve then thaw in the fridge!
This candy fudge is sweet, minty, and perfect for the winter season. Tuck these bars away to have on hand for holiday guests or enjoy them while watching your favorite Christmas movies. Serve these creamy fudge pieces with some delicious homemade eggnog!
*This list includes my affiliate links
Shopping List!
Here is the list of supplies you will need to make these fudge bars:
If you liked this fudge recipe, then check out my old-fashioned rocky road fudge recipe too! YUM!
PIN IT