These luxurious DIY winter sugar scrub bars are gentle enough to use all over your body to help you get rid of dry skin. Made with natural ingredients, this product also smells amazing!
Been wondering where the perfect gift for someone could be? Look no further than these sugar scrub bars! They make the perfect stocking stuffer or thoughtful present because they are sweet AND practical. Indulge in some sweets and treat your body right too with a yummy sugar scrub bar for the holidays!
*This post includes my affiliate links
There's nothing like smooth and clean skin before bedtime. These little scrubs will leave your skin feeling as soft and cozy as can be! Plus, they smell absolutely heavenly!
You're going to love these DIY sugar scrubs that will have your beautiful self ready for Santa's sleigh this year (or maybe just your bed!). You can check out the benefits of making your own body scrub too!
Don't forget to grab your homemade holiday treats like this delicious peppermint candy fudge, a cup of hot cocoa, and your supplies so we can get started! Let's go!
DIY Winter Sugar Scrub Bars Recipe
These cute and festive little exfoliating bars help all types of skin look and feel great in the winter months. The yummy scent makes these a perfect gift this upcoming holiday season for that special someone!
Recipe
These Christmas sugar scrub bars are adorable and will look lovely sitting in a soap dish on the bathroom vanity. They take just a few basic ingredients to make and are a wonderful way to keep your skin well exfoliated, without the mess of a traditional sugar scrub.
Microwave safe bowl
Wooden craft stick for stirring
Place the soap base into a microwave-safe bowl or measuring cup. Heat for 20-30 seconds, and stir well.
Add oil and sugar. Stir until blended. You may have to heat it again for 15 seconds if it is starting to solidify.
Add silver-white mica powder, and stir.
Pour into snowflake, tree, and snowman cavities in your mold.
Add wine red mica powder to the remaining mixture and heat for 10 seconds to liquefy again. Stir well.
Pour into remaining Santa, stocking, and candy cane mold cavities.
Let it sit for about an hour.
*Note: You can easily store these in an airtight container safely, for up to 6 months! So, start making them now for the Christmas season!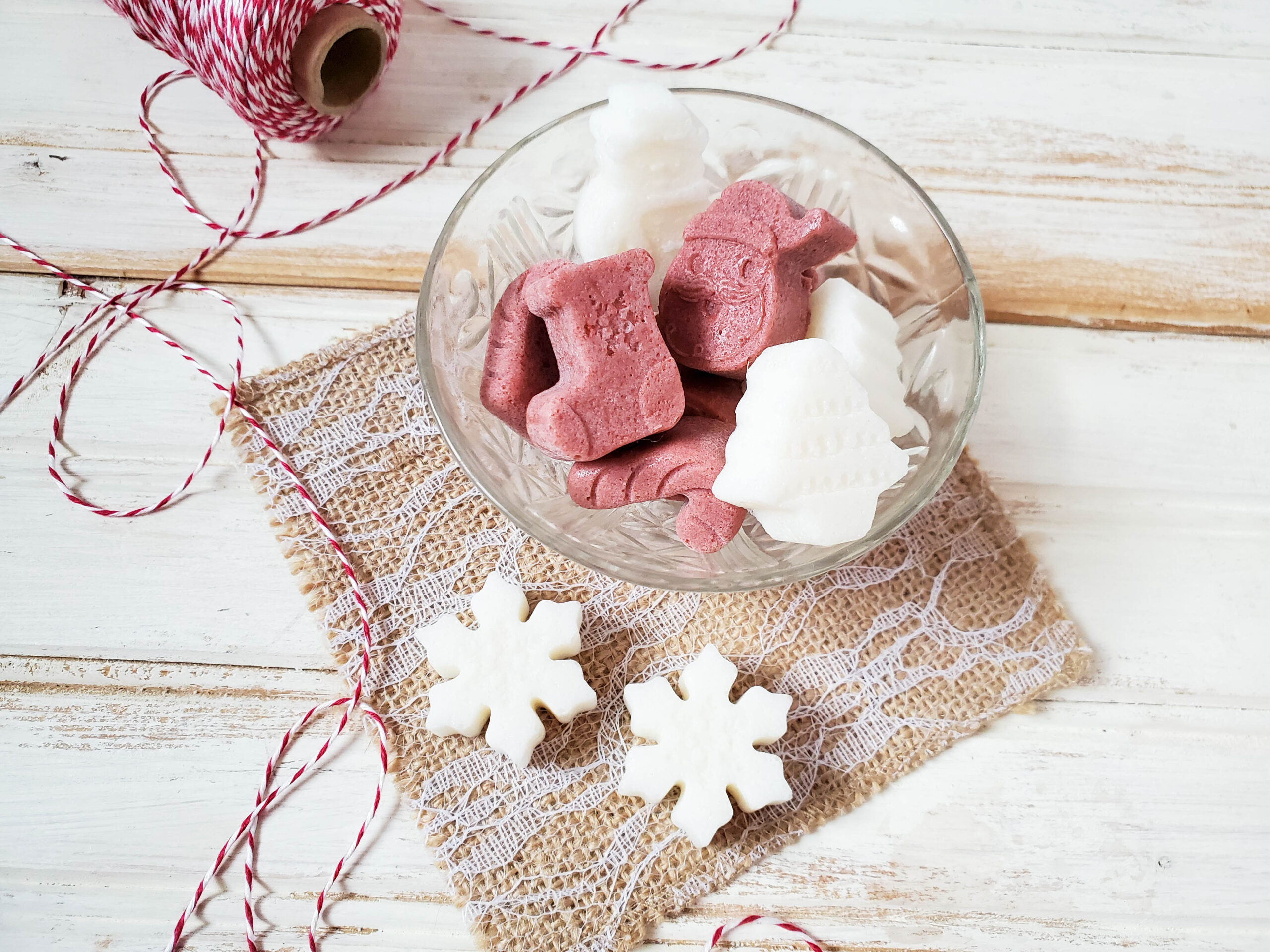 If you're looking for a luxurious DIY winter project, this sugar scrub bar is the perfect thing! Made with natural ingredients and gentle enough to use all over your body, these bars are great for dry skin.
This product also smells amazing- I have never smelled anything more wonderful. If you liked this recipe, then please check out my other recipe for peppermint foot scrub!
Have you ever made sugar scrub bars before? Let me know in the comments below!
If you liked this sugar scrub recipe, check out these other Christmas sugar scrub bar recipes:
*Christmas Tree Sugar Scrub Bars
PIN IT