Welcome to my newest blog, Christmas Crafts and Recipes! I am so excited to start this blog and share my love of Christmas with you all!
Who doesn't LOVE cookies?! Yummy treats especially around the holidays are just so good! I always make sure my oven is baking up something delicious for my family when the holidays start! This year, it is different because I started extra early! I recently made these soft and chewy glazed Vermont Maple Cookies with Pecans and they turned out SO good that I had to share with you all!
*This post includes my affiliate link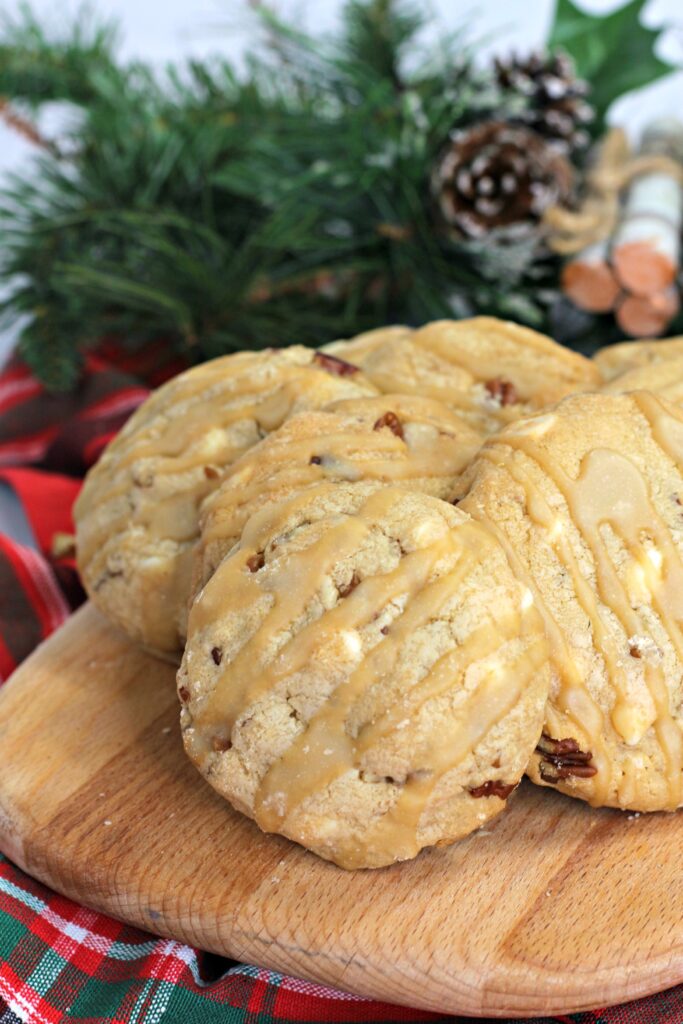 I also enjoy baking not only for my family but for friends too! And, who doesn't love baked goods? I enjoy receiving them too! And, nowadays, there are SO many fun and cute ways to package these yummy glazed Vermont Maple Cookies with Pecans. I like shopping on Amazon (doesn't everyone?!) and they have so many cute packages and containers to put baked goods in that are perfect for the holidays! Having the perfect little bag or decorated box to put these cookies in is a great way to gift your baked goods to others this season.
Glazed Vermont Maple Cookies With Pecans
Now for the recipe, you are waiting for! I promise that when you bake these glazed Vermont Maple Cookies with Pecans, they will disappear rather quickly! They are THAT good!
Glazed Vermont Maple Cookies With Pecans
An easy recipe for Glazed Vermont Maple Cookies With Pecans. These sweet and nutty cookies bake up just beautifully in the oven. It couldn't get any closer to comfort food than this!
1 cup butter softened
3/4 cup sugar
3/4 cup brown sugar, packed
2 large eggs, room temp
1 tsp maple flavoring
2 1/2 cups flour
1 tsp baking soda
1 tsp salt
2 cups white chocolate chips
1 cup chopped pecans
1/3 cup of butter, cubed
1 3/4 cups of confectioner's sugar
1/3 cup of maple syrup
1/4 tsp maple flavoring
Preheat oven to 350 degrees and prep a cookie sheet with parchment paper or a baking sheet, set aside.

In a stand mixer, cream butter and sugars together until light and fluffy.

Beat in eggs and maple flavoring.

In a separate bowl, whisk flour, baking soda and salt together.

Gradually beat the flour mixture in till combined.

Stir in the white chocolate chips and chopped pecans.

Using an ice cream scoop, scoop the batter onto the prepped cookie sheet. (Leave at least 1-2 inches of space in between each scoop.)

Bake for 10-12 minutes or until golden brown.

Allow cookies to cool for 5-10 minutes or until cool to the touch then transfer to a wire rack with a cookie sheet underneath.

For the glaze, using a saucepan melt the butter over medium heat. Remove from the heat.

Gradually beat in confectioners' sugar, syrup, and maple flavoring till smooth

Drizzle glaze over cookies allow drying completely.

Serve and enjoy with an ice-cold cup of milk or egg nog! If you like these cookies, then check out my Hogs & Kisses Cookies! They are SO good too!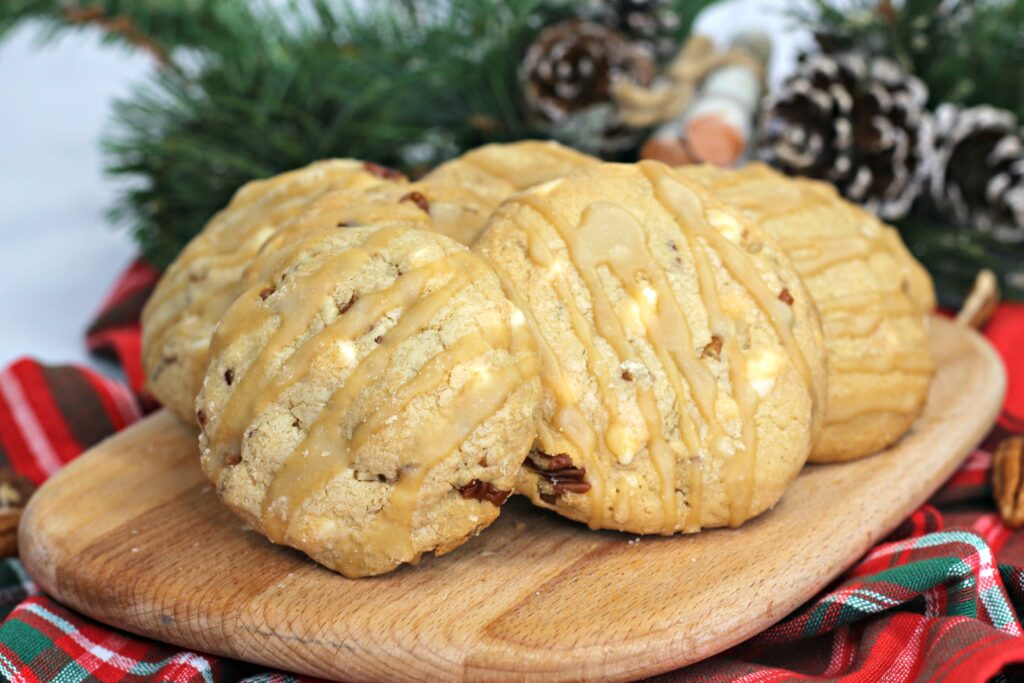 Here are more yummy cookie recipes for you to check out:
*Nilla Wafer Cookies With Nutella And Banana
*Easy Peanut Butter and Chocolate Chip Cookies
And, if you are searching for a way to stay fit during the holidays (you know after you eat all these delicious cookies!), you can visit my other blog, My Fitness Routines, and get in shape with me!
Let me know if you decide to bake these chewy cookies. I would love to hear how they turned out for you and your family!
Happy (Early!) Holidays!
Kim