You don't have to go to the fudge shop to get good fudge anymore! You can easily make old fashioned fudge at home in your kitchen. Fudge that is creamy and rich tasting! And, it only takes a few ingredients and it will be ready in no time! This is the kind of fudge that grandma used to make in her kitchen!
I remember when I was little my brothers and sisters would gather in the kitchen and help my grandmother makes this old-fashioned fudge with marshmallows and walnuts. It was our absolute favorite treat to make because it would signify the start of the holidays in our home! We knew that when grandma pulled out the fudge ingredients, that soon, the holidays would come! So exciting!
Old Fashioned Fudge with Marshmallows and Walnuts
Below, you will find the recipe my grandmother used to use to make my siblings and me her famous creamy fudge! So delish!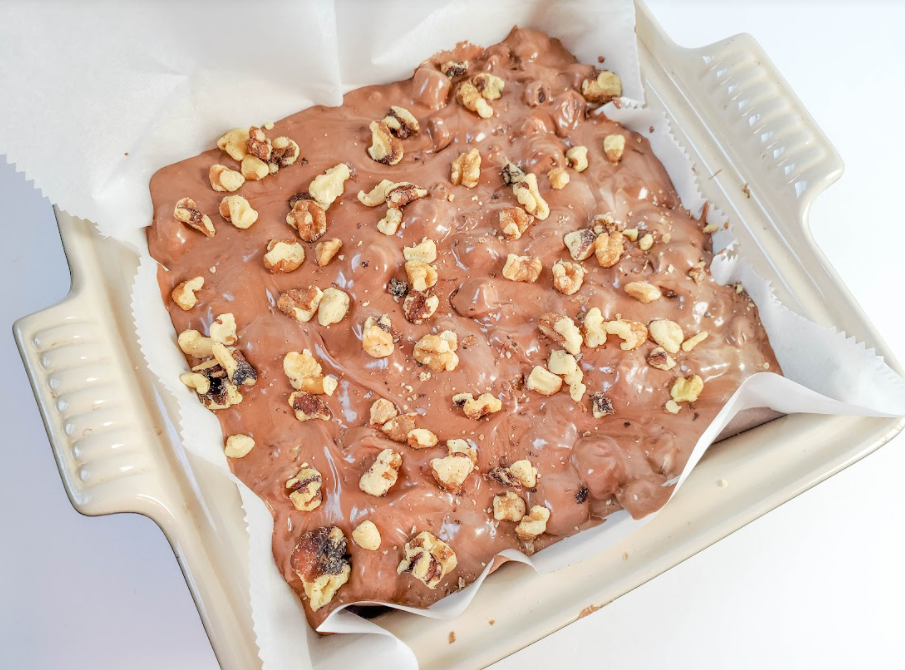 *This post includes my affiliate links
Old Fashioned Fudge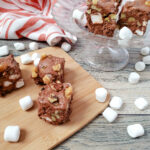 A creamy and delicious old fashioned fudge recipe that grandma used to make in her kitchen!
9×9 inch baking pan
parchment paper
Microwave safe bowl
spoon for stirring
1 tbsp butter
1 tsp vanilla
14 oz jar sweetened condensed milk
1 cup chopped walnuts
1 cup mini marshmallows
Line 9×9 inch baking pan with parchment paper

Heat chocolate, butter, and vanilla until melted. You can use the double boiler method, or dump ingredients into a microwave-safe bowl, heating on high in 30-second increments, stirring between, until fully melted.

Add marshmallow fluff and sweetened condensed milk.

Stir Well until mixed

Add ¾ cup walnuts and marshmallows. Stir well.

Pour mixture onto parchment paper-lined baking pan, spread evenly.

Top with remaining walnuts.

Cover with foil and refrigerate for at least 2 hours before cutting into 1-2 inch squares.
This is a very soft fudge recipe, so you may want to freeze for one hour before cutting, for a smoother cut. You may also want to store this fudge in the refrigerator.
How Do I Store Homemade Fudge?
To store your homemade fudge you can cut them into pieces and wrap them up in parchment paper and put them into an airtight container or put them into plastic bags that seal at the top. At room temp, the fudge will last anywhere from a week to two weeks. I like to keep my fudge in the fridge in a sealed baggie and it will last for about 3 weeks in the fridge. You can also freeze the fudge by wrapping the fudge in parchment paper and putting it into an airtight container. You can safely store the fudge in the freezer for up to 3 months.
Let me know if you make this yummy fudge! I would love to know how it turns out!
If you liked this recipe then please check out my other recipe for delicious hot chocolate frozen ice pops! Or, my Vermont Maple Cookies! YUM!